---
Posted: September 17, 2016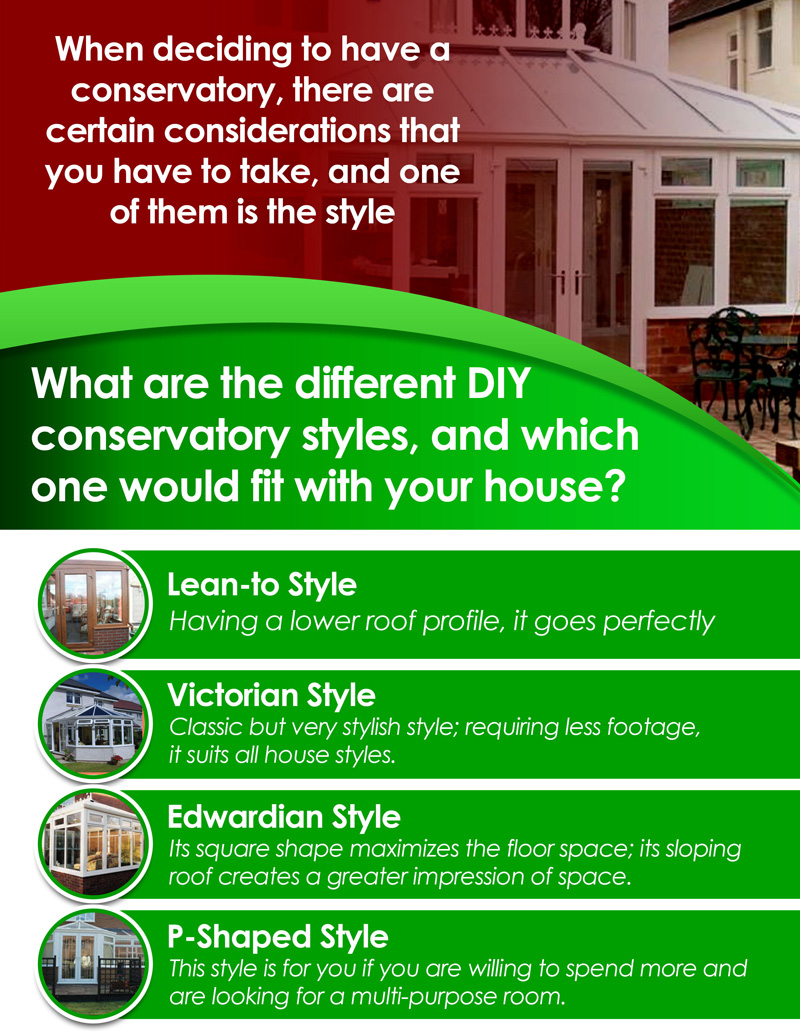 Having a conservatory has various benefits, such as it adds more space in your home, you get to enjoy a garden all year round, and it increases the value of your home. However, when deciding to have one, there are certain considerations that you have to take, and one of them is the style, especially if you are going DIY. You have to know what suits your house best; otherwise, your conservatory will stick out like a sore thumb. So, what are the different DIY conservatory styles, and which one would fit with your house?
1. Lean-to Style
Rectangular in shape, the lean-to style is an excellent choice if you wish to have additional square footage to your downstairs living area. While many people assume that this style has a flat roof, it may also come with a pitched roof, helping channel rain water properly and stop leaking. Having a lower roof profile, it goes perfectly well with bungalows.
2. Victorian Style
If you are going for a classic but very stylish style, then choose the Victorian style. Requiring less footage, it suits all house styles. As such, it is the most popular style. It has a bay front, a steeply pitched roof, and intricate ridge details.
3. Edwardian Style
The most important characteristic of the Edwardian style is its square shape, which maximizes the floor space. Moreover, its sloping roof creates a greater impression of space, creating a relaxed living space. Because it has a classic roof shape, it will go well with both period or modern houses.
4. P-Shaped Style
This style is for you if you are willing to spend more and are looking for a multi-purpose room. The additional space it takes up will be worth it as the result would be a great looking conservatory with lots of space.
In sum, a DIY conservatory is a great home improvement investment. There are different styles to choose from, according to the type of house you have, your taste, and your budget. The four common ones are the lean-to style, Victorian style, Edwardian style, and P-shaped style. If you are not very sure about which style is for you, consult a credible DIY conservatory company. It is an investment, and you have to make informed decisions if you want to have it according to what you need and want. Then you would be able to enjoy it, which is a great payoff for the amount of money you have spent on it.
Posted in DIY Conservatories
---
Posted: September 15, 2016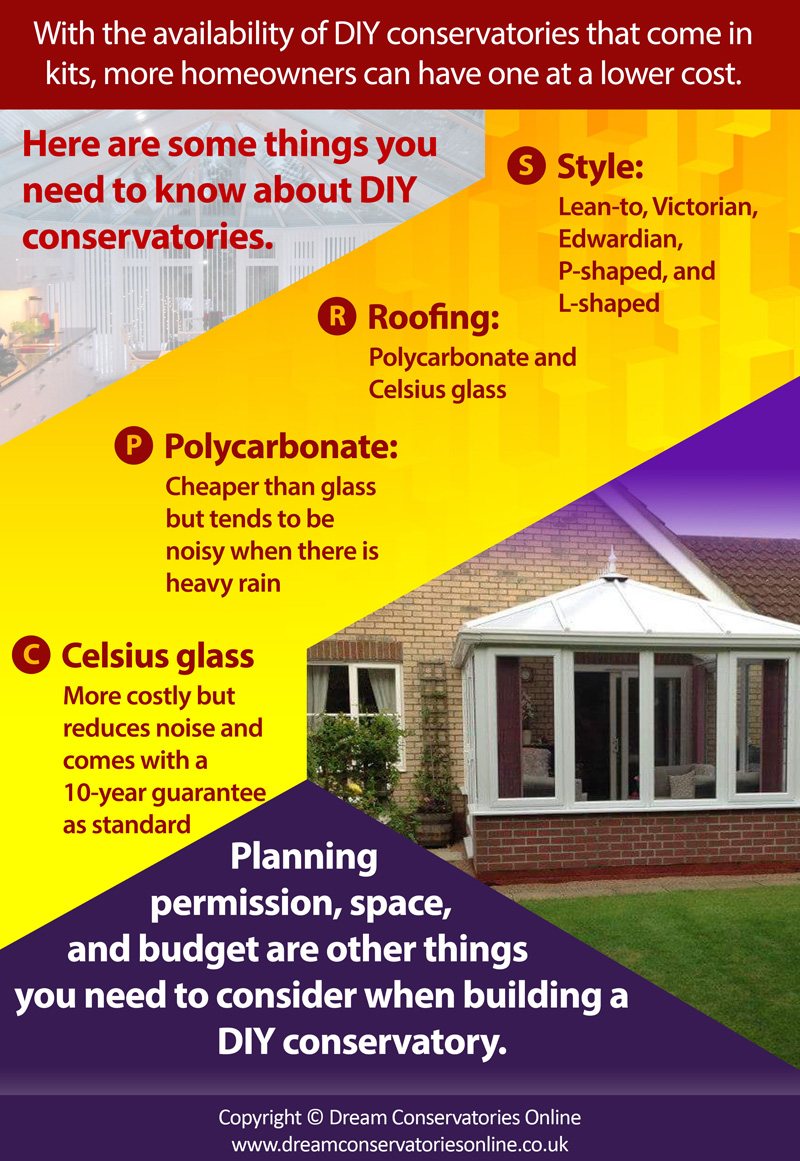 Used as a sun lounge or a place to grow delicate plants, a conservatory has become a popular home improvement project among homeowners because of their several benefits. Besides allowing for more space for your growing family, it raises the value of your home. Building one can be costly, but with the availability of DIY conservatories that come in kits, more homeowners can have one at a lower cost. Here are some things you need to know about DIY conservatories.
Style
You can choose from a range of styles, the most common of which are:
Lean-to: The most basic and cheapest style there is, its pitched roof slopes away from the wall of your home. It is typically found on the side of properties, where it functions as a utility room or a sun trap.
Victorian: Bay-fronted and usually comes with a three or five faceted roof, the Victorian style is stylish and curvy, making it blend well with the look of most homes.
Edwardian: Square or rectangular in shape, this style maximizes floor space since there are no curves occupying the corners.
P-shaped: It is a combination of the same style or different styles, creating a grand new style.
L-shaped: Usually found wrapped around corners, this style is excellent for maximizing the use of space where a gable extension juts out from the main body of a house.
Roofing
With regard to the roof of your conservatory, there are generally two options:
Polycarbonate: Made from thin sheets of plastic, it is the more affordable option. Its drawback, however, is that it is noisy when there is heavy rain.
Celsius Glass: It is more expensive than polycarbonate, but it reduces the noise brought about by a heavy rain. Celsius glass products also come with a 10-year guarantee.
Other things you need to take into consideration when choosing a DIY conservatory planning permission, the space of of your property, and your budget.
In conclusion, a DIY conservatory is an excellent addition to your home. It can have multiple functions and makes your home more valuable. There are a few things you need to know about it before having one, though, and that includes the style and roofing. The styles available are lean-to, Victorian, Edwardian, P-shaped, and L-shaped. In terms of roofing, polycarbonate and Celsius glass are available. Moreover, visit a reliable DIY conservatory company and seek for advice if you are not very sure about what you need and to see what your options are.
Posted in DIY Conservatories
---
Posted: September 13, 2016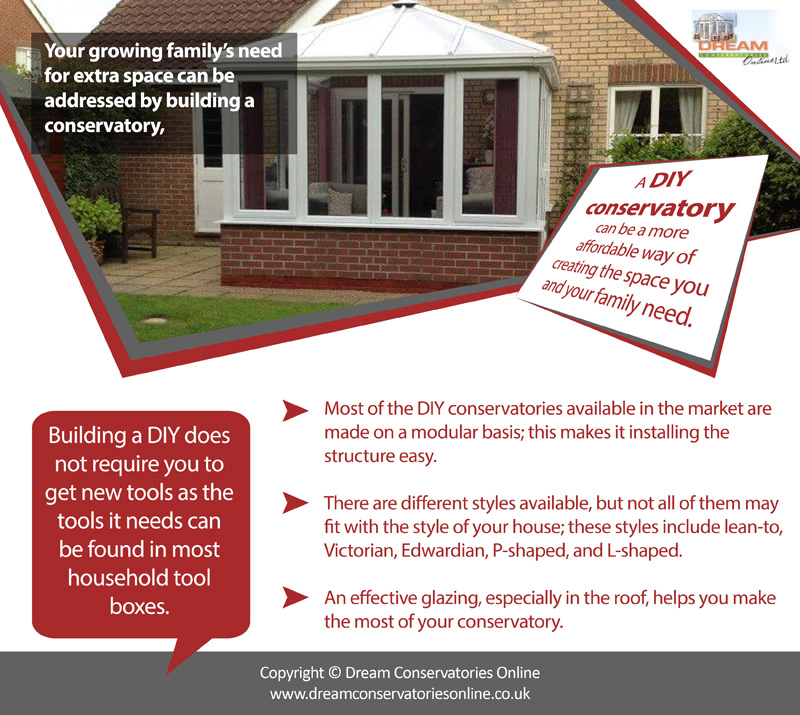 As your family grows, you may want to create some additional space. This can be addressed by building a conservatory, which can be a more affordable way of creating the space you and your family need. You may choose to have professionals build it for you, but there is a more economical choice, that is, installing a DIY conservatory. You can get one in the form of a kit, complete with all the parts you need for building a conservatory.
Most of the DIY conservatories available in the market are made on a modular basis. This makes it installing the structure easy; you just need to start with one part of it and add others as you go along. Before getting your kit, you have to double check whether or not you need a planning permission, ensuring that what you are doing will be legal. Also, carefully consider the location of the structure to avoid moving drainage parts out of the way.
Another factor that you need to consider before getting a DIY conservatory kit is the style of your house. There are different styles available, but not all of them may fit with the style of your house. These styles include lean-to, Victorian, Edwardian, P-shaped, and L-shaped. Each style suits a certain house style and has its own advantages. As such, choose the one that would blend well with your house and that would meet your requirements. Lean-to, for instance, is the most basic and cheapest style, but the Victorian style would fit with most homes.
Glazing is another consideration when getting a DIY conservatory. An effective glazing, especially in the roof, helps you make the most of your conservatory. As your needs may be different from that one someone else's, seek advice from an expert. Moreover, decide which kind of roofing that best suits your requirements. Your best options are polycarbonate roofing and glass roofing, each of which has its own distinct advantages.
Another good thing about building a DIY conservatory is that it does not require you to get new tools as the tools it needs can be found in most household tool boxes. Also, your kit should come with easy and clear instructions, so you do not have to worry about not being able to correctly follow them.
To sum up, a DIY conservatory is an excellent addition to your home. It is an affordable way to create more space for you and your growing family. It is also easy to build and adds value to your home.
Posted in DIY Conservatories
---
Posted: September 11, 2016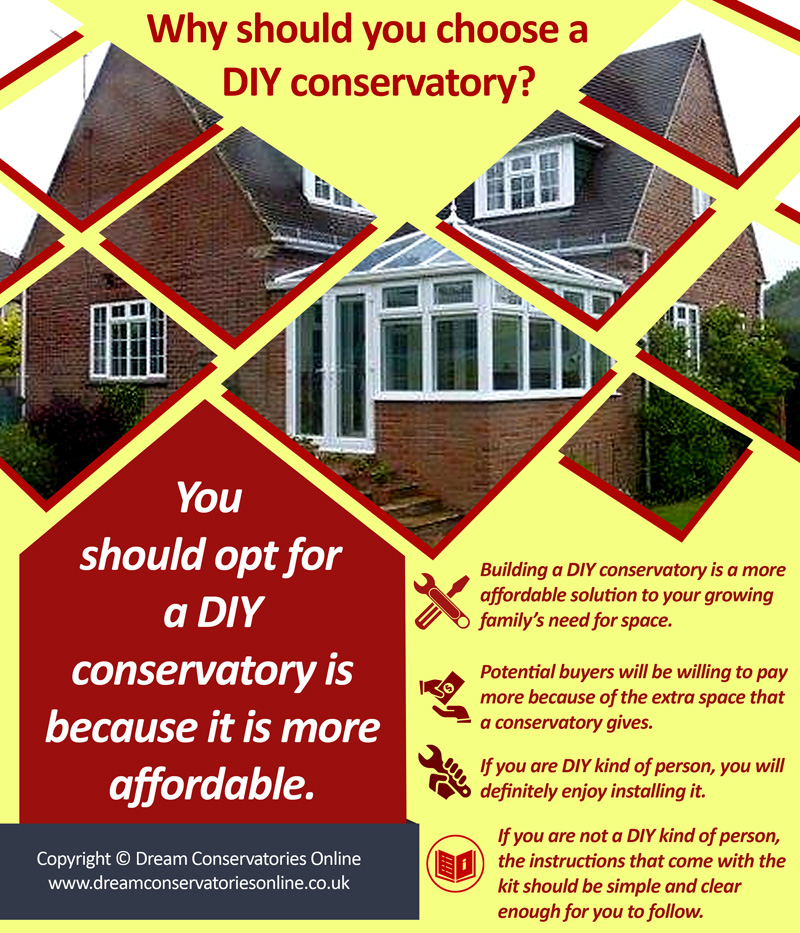 One of the home improvement projects that you should consider having is a conservatory. It allows you to create extra space in your home without having to spend as you would when building a concrete walled room. Moreover, DIY conservatories are becoming popular, and there are good reasons for that. So, why should you choose a DIY conservatory?
One of the most important reasons why you should opt for a DIY conservatory is that it is more affordable. You can design it and get the materials on your own, although there are reliable companies that provide DIY conservatories in the form of a kit. All you need to do is choose from a range of designs and just follow the installation instructions that come with the kit. Designs include lean-to, Victorian, Edwardian, P-Shaped, and L-Shaped.
Moreover, your home needs more space as your family grows. And, building a DIY conservatory is a more affordable solution to that need. You do not have to spend a considerable amount of money to build another room or structure in your property. It is an excellent area where you and your children or family members bond and be in touch with nature without you being worried about their getting too much sun exposure or getting caught in the rain.
And, while you create more space for your growing family, you add value to your home at the same time. When the time comes that you will have to sell your home, chances are the potential buyers will be willing to pay more because of the extra space that a conservatory gives.
If you are not that confident about designing and building your very own conservatory, consult a company that specializes on DIY conservatories. They have kits equipped with everything you need for installing the structure. Furthermore, you have to decide what design would be most suitable to your home. In terms of the roof, you typically have two choices: polycarbonate and glass. Either way, everything will be provided for you. All you need is to install it.
In conclusion, a DIY conservatory has several advantages. It is more affordable, creates more space for your growing family for a lower cost, and increases the value of your home. And, if you are DIY kind of person, you will definitely enjoy installing it. And, if you are not, the instructions that come with the kit should be simple and clear enough for you to follow.
Posted in DIY Conservatories
---
Posted: September 9, 2016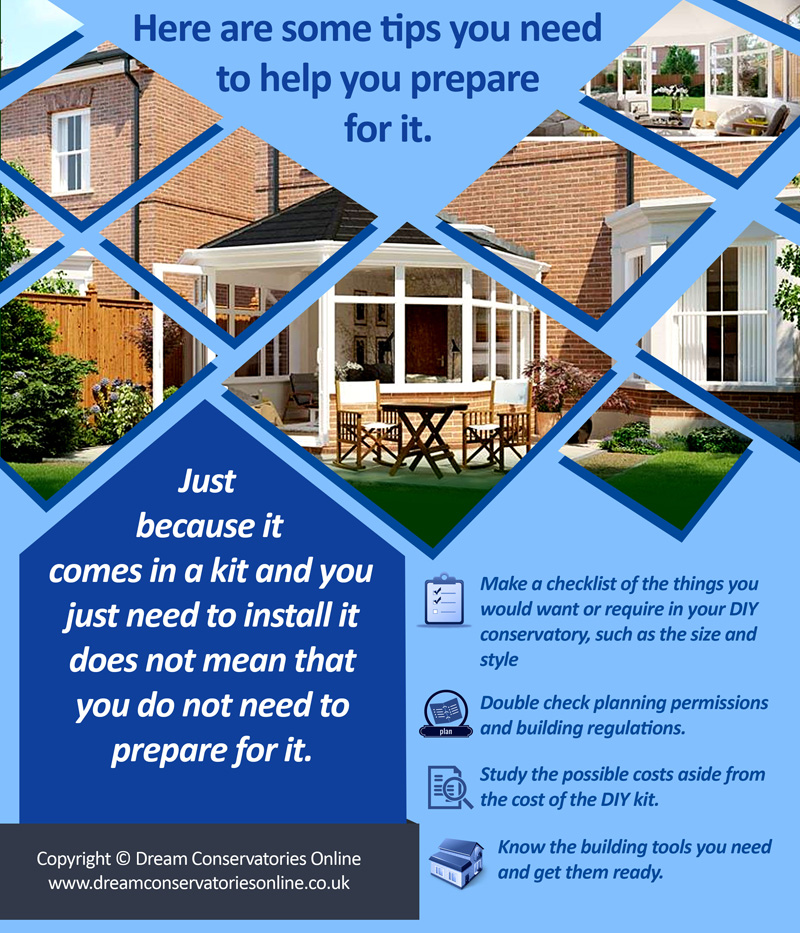 Building a conservatory can be a very expensive and time consuming project for home improvement. However, DIY conservatories have been made available, allowing more homeowners to have a conservatory at a lower cost. Moreover, having one in homes has become popular because of its advantages. One of its advantages is that it raises the value of your home. Besides that, it creates more space in your home, which is especially beneficial if you have a growing family. However, just because it comes in a kit and you just need to install it does not mean that you do not need to prepare for it. For that, here are some tips you need to help you prepare for it.
First, make a checklist of the things you would want or require in your DIY conservatory, such as the size and style. Do you have enough space in your property for a bigger one? What style would be the most suitable to your home? You have to take note that there are different styles available, and not all of them will go well with the style of your home. For instance, the lean-to style is an excellent choice for bungalows. Or, if you are aiming for classic but stylish, then you can go for the Victorian design.
Furthermore, double check planning permissions and building regulations. While a planning permission for installing a DIY conservatory is typically not required, it would not hurt to look it up as there may be a few reasons why you would need a planing permission.
You also get to avoid future trouble if you study the possible costs aside from the cost of the DIY kit. These may include waste removal costs, excavation costs, and electrical wiring costs.
Lastly, know the building tools you need and get them ready. These tools may include shovels for excavation and cordless drills for roofing.
There is no doubt that a DIY conservatory is a practical way to adding more space in your home. It can also enhance the look of your property, and it is an excellent relaxing space. And, being prepared for it will save you time, money, and effort. You need to list down what you want in a conservatory, double check planning permissions and building regulations, study other possible costs, and know and prepare the tools you need for installation. After that, you are ready to order your kit, install it, and finally enjoy it.
Posted in DIY Conservatories
---
Posted: September 7, 2016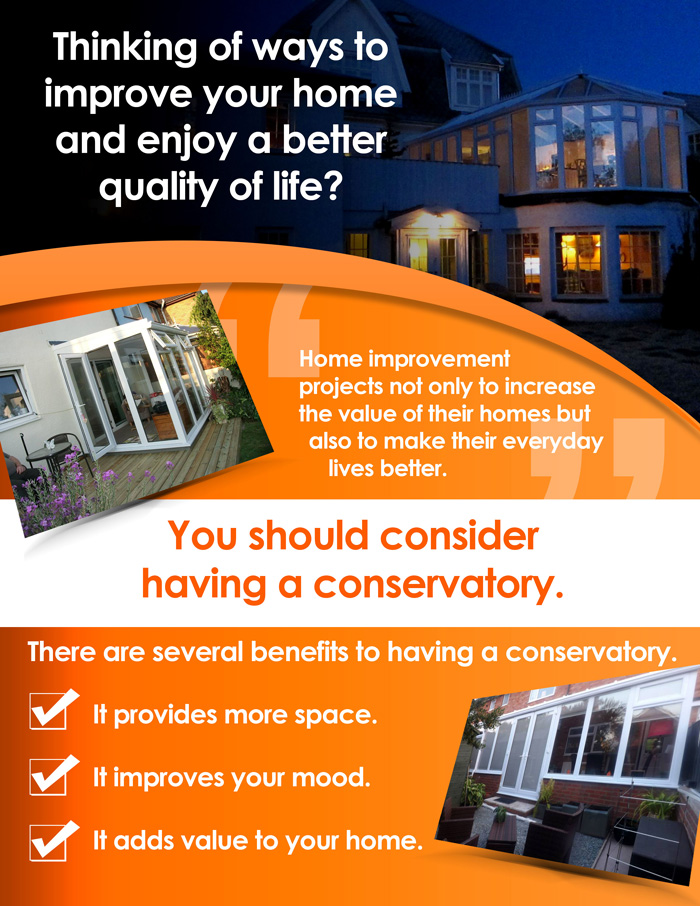 Thinking of ways to improve your home and enjoy a better quality of life? Many homeowners take on home improvement projects not only to increase the value of their homes but also to make their everyday lives better. If you are one of them, then you should consider having a conservatory. You can have your own design, although there are traditional designs you can choose from, such as Victorian, Edwardian, and Lean to. You have to make sure that the design you choose fits with your house so that your conservatory will not look like a sore thumb. For instance, if you have an old house, a Victorian design would be a great choice. Anyhow, there are several benefits to having a conservatory.
1. It provides more space.
You may be in need of more space because some rooms in your home are cluttered with toys and other household items. If you are looking at using this space to relax, then having a conservatory would be an excellent idea. Having a conservatory can be compared to having an additional living room, except that the former involves nature, making it a very suitable place for relaxation. It can also be an area where you can entertain guests.
2. It improves your mood.
A conservatory allows you to bask in the sun even though it is still a bit cool outside. Besides that, it allows you to grow delicate plants, so whatever the season, you get to enjoy being surrounded by a garden. Exposure to sunlight and nature has been shown to improve your mood, which consequently enhances your quality of life. Moreover, if you have children, they get to enjoy the garden without you having to be concerned about their getting too much sun exposure or getting wet when it rains. Having a conservatory may indeed translate to having a happier home.
3. It adds value to your home.
Having a well-built conservatory is indeed an investment not only for its helping improve your well-being but also for its helping you financially. It can increase the value of your property, so in case you decide to sell it in the future, it will attract more potential buyers.
In conclusion, a conservatory is a home improvement project you should consider taking as it has various benefits. It gives you more space, improves your well-being, and raises the value of your property. And, if you finally decide to have one, make sure that you take a few things into consideration, such as its style and size so that it would go well with your house.
Posted in DIY Conservatories
---
Posted: December 22, 2014
Getting a DIY conservatory might sound overwhelming, especially if it is your first time to go into such construction. It's easier to buy a house, get some makeovers for kitchens, but building conservatories might look so big. However, having one makes one's home look prettier.
But did you know that it is also practical? Below are some reasons why you need a conservatory:
1. House gets smaller
As family grows, you need more beds, cabinets, and bigger sofas. You notice that your house gets smaller and smaller every year; especially when you need to give your children rooms on their own. So where do you go?
Getting a conservatory is a practical way of extending your house and make everyone feel more comfortable. It adds space without actually dealing with your house's existing structure. It's a safer and cheaper way.
2. House gets more damages
As you get more and more things in your house, it will incur more damages. You would see paint being scratched off the wall by furniture or even human traffic. Your house gets too crowded that it's easy for everyone to become careless and easily commit accidents.
With a new conservatory, you can relieve your house from such possibility.
3. To increase property value
And of course, because your property looks better with the existence of a new conservatory, it increases its value. It will then be easier to get loans, or even sell your home at good price, if needed.
Ask your property manager about it and you will surely get a positive response.
Regardless of your neighbourhood, and how each property is valued there, your home will become better than others with your DIY conservatory. It is a sure investment that you can start with since it creates more value other than your experience alone.
Posted in DIY Conservatories
---
Posted: December 21, 2014
Having a DIY conservatory would definitely add beauty to your home. No doubt your neighbours think so, too. After generating funds for the construction, seeing it's already done is a relief. But is it all?
There is more to having a new structure built on your property which makes communication with your builder a must. Below are things that you can expect with your new conservatory:
1. You might need to change the roofing
There is a possibility that you have to replace the roofing material that you now have. It basically depends on the type of roofing you have chosen; which is especially true with using shingles and fiber glass.
Weather and seasonal changes could weaken the structure of your roofing which can leave it looking ugly or being non-functional at all.
2. You need to clean the glass regularly
If you are using glass for the walls and the roofing, you have to clean the glass regularly unless yours have the technology of self-cleaning. Employing window cleaners, particularly for hard to reach surfaces would be best.
Glass cleaning might even become a must during autumn as dried leaves and twigs could block your view above.
3. It's very attractive to burglars
And the worst thing that you can expect with your stunning structure is that it is attractive to burglars. If you don't have good security system, better have one.
Your conservatory could look vulnerable and tempting at the same time. As much as possible don't house furniture and electronics which are easy to prey on. Having heavy furniture are best to frustrate burglars.
Following these tips, you can prepare for unseen situations and easily act on them. If there are things you aren't quite sure about your DIY conservatory, don't hesitate to contact your builder and ask for suggestions.
Posted in DIY Conservatories
---
Posted: December 20, 2014
While not every home in the world has a conservatory or needs a conservatory, it is a necessity for some people especially in countries where winter months can be quite unforgiving. If you happen to live in countries like the UK, US, Canada or Australia, you might want to look at the most common reasons why households decide to have DIY conservatories in their homes. These reasons are necessity or functionality, additional property value and affordability that they can get from self build conservatories in contrast with hiring a contractor for the project.
1. Necessity
First, conservatories are needed during the winter months. If you want to enjoy the feeling of being outdoors without actually stepping out into the cold snow, a conservatory can do the trick. While it may sound like it is just an accessory to a home and not a need at all, its functionality, even in the summer, cannot be undermined. It could add aesthetic quality to your home. And speaking of such, comes the next reason why having a conservatory has actually lots of benefits.
 2. Increased property value
It adds value to your property. Any additional functionality added to a home increases its market value. This may be wise to do when you are planning to put your house in the market. For buyers, a conservatory is something that could be very useful. Depending on the placement and design of your conservatory, it could also boost your property's curb appeal and beauty in general.
 3. Easy on the pocket
And lastly, DIY conservatories are way affordable compared to having it built by a contractor. Why hire someone who charges you a huge fee when you can do it for free during your spare time? Self build conservatories are easy to assemble. If you worry that you might not get it right, there is a comprehensive manual that you can use as a guide. You can build your own conservatory like a pro.
DIY conservatories are necessary. They can also be a great way to use as leverage when you want to instantly increase your home value without breaking your bank. Now that you know all these, deciding to have self build conservatory for your home isn't that difficult, is it? Now, go to the nearest DIY shop, build your own conservatory and start enjoying the perks mentioned above and many more!
Posted in DIY Conservatories
---
Posted: December 19, 2014
Having a DIY conservatory constructed sounds exciting and challenging at the same time. Expect that it would require you not just your money, but your time, energy, and social activities; particularly if you want to be more hands-on on the project.
But there should be limits or else you will compromise important things that you would regret later on. Below are some examples:
1. Your bank
Since you have already had the cost estimated with the builder, stick to it. It is possible that you will get into a situation where you have to spend more than what you have estimated but stick to the need and not the want.
Stick to your plan. If changes have to be made, go for the most practical and compatible alternative. Don't break your bank.
2. Your family time
Yes, it is possible that you will have to sit and discuss with your builders frequently, or you may encounter issues that would stress you out, but don't compromise quality time with your family. This is most important when you have young children who need your attention and good mood.
If possible, include your family with discussions about the project. It doesn't matter how small they are; children are sensitive enough. They would feel better if they know what's going on rather than guessing what has happened to you.
3. Your property
Finally, don't compromise your property for the sake of adding more attraction to your conservatory. Changing a big chunk of landscape in your property, just because you want a small glass house built sounds vain.
Your DIY conservatory should be something that would remind you of hard work and diligence; not guilt. Don't be compromised to fully enjoy the functions of this new addition to your home. Be creative and think of more ways to make it smooth sailing.
Posted in DIY Conservatories
—
next