DIY Conservatories
DIY Conservatories & Steel Base Conservatories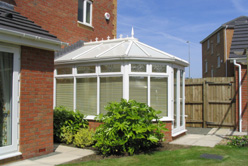 On the face of it, building a conservatory can look like quite a daunting project. Looking at a grand conservatory, perfectly finished and well blended into the surrounding environment, can be quite a sight to behold.
It is not unusual for the first impression to be 'no way can I build that'! If you were building from scratch, with no pre-designed and factory produced components, then you'd probably be right. It would be a huge task.
But in fact, a DIY conservatory is well within the reach of many DIYers including those who have never embarked upon such a project before. If you read through our testimonials you'll find customers as young as 77 years of age, that have build their first conservatory.
The key is getting all the basics sorted out correctly. If you work with someone that can help you to ensure that your order is correct from the off, then all you really have to do it assemble the components. While the conservatory parts are bigger than your average sized Lego block, it really is just an assembly project.
Below you'll find a brief outline of the major stages of the conservatory project, to give you a feel for what you'll be working with.
One of the main ingredients that you get from Dream, to help you along, is support. You'll have Dream Conservatories Online staff to help should there be any issues that you're not too sure about. As with any project, it is best to get any issues out of the way as early as possible – preferably before you begin. But there are occassions when you just need a little clarification on something and that's where we make the difference. A simple call, a quick chat and bravo! You're set.
To help you picture an overview of the DIY conservatory project we have broken it down into the following five key stages:
---
Stage 1 : The first stage is all about planning your conservatory installation
Stage 2 : Once you have planned your conservatory installation and are happy with regulations and what style and size you are going for, then you are into the build phase. During the build phase you will need to consider your options for the foundation. Will you go for a traditional foundation or a modular steel conservatory base?
Stage 3 : With the base and possibly dwarf wall in situ, you are ready to assemble the frames.
Stage 4 : Once the frames have all been assembled you have something for the roof to sit on. This is the next major stage of the project and will involve more than one person.
Stage 5 : Almost there – now the finish. The finish will include a number of different parts. Finishing the job may involve laying your flooring inside the conservatory, installing the fixtures and fittings, sorting out the lighting and other electrics, providing heating for winter, finishing with internal panels and possibly even the bricks for the modular wall system.
Below is an outline of each of the five major stages of the project with a little more information to help you piece together the entire project.
---
Refer to our section on planning for information on whether you need planning permission
Stage 1 – Sorting Out the Plan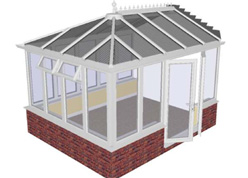 Stage 1 : Planning Your DIY Conservatory Project
There are a number of different aspects you'll need to consider regarding planning.
Your Requirements
When dealing with the planning many people think only about building regulations or planning permission. While they are both important aspect, the first considerations should be the style, size and position of your conservatory.
These questions are fundamental and drive everything else that will happen down the line. Think about access to your conservatory for cleaning and maintenance – as well as access to key areas like manhole covers and drains. Usually conservatories are built at the rear of a property where obstacles abound. Think about what style and size of a conservatory you require and how it is going to fit with your house. Getting this right is the difference between just having a great usable space and adding real value to your home.
Once you are happy that you've got the answers to this stage you will should then check on the building regulations and planning permissions page. This will help you to understand what else you may need to consider, if anything. It is unlikely that you will need planning permission, but depending on your location and the size of your conservatory you will need to double check to ensure that your project is going to be legal.
2 : Deciding on Your Conservatory Foundation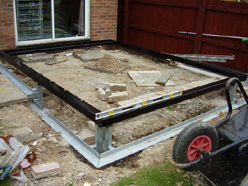 Stage 2: Your conservatory foundation – the base Conservatory Base
When it comes to the conservatory base there are two real options.
Option 1 : A Traditional Build. The traditional build option involves digging out a foundation or footing that will be used to support the weight of your conservatory. This is a project in itself and not one that we would recommend as a DIY project. You will need heavy equipment, lots of cement and good technical knowhow.
Once you have built the base you will need to give it good time before you are able to start building. In addition to the logistics of building the base you will need to consider what happens to the dirt and mud that has been excavated. The ideal solution will be to hire a few skips to remove the waste.
The whole exercise will be time consuming, complex and messy. that is our opinion gained over two decades in the industry.
However, if this option is for you, then we strongly recommend that you use a local expert to build your foundation, and they must have the base plan for your conservatory to hand to ensure that they get it right.
If you would like a comparison between a traditional build and a steel base then please click here.
Option 2 : A Steel Base for Your DIY Conservatory. The steel base option is very much for the DIYer. But let's just set the record straight. Just because it is for the DIYer, it does not mean that it is any way inferior to a traditional base. In fact, you will find a great many conservatory companies that use a steel base and modular wall system for their conservatory installations.
A steel base does not require a large foundation to be dug with mounds and mounds of waste dirt and soil. It requires footing pads which take the weight of the conservatory at strategic points around the base. There is very little digging, little waste material and the whole job is usually completed in the day.
In our opinion there is hardly any real logical reason why we would recommend a traditional build base over a steel base and modular wall system.
3 : Putting The Doors and Panels in Place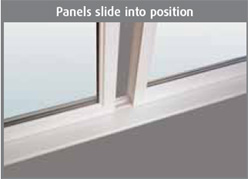 Stage 3: Assembling Side Panels and Doors Onto the Base
It is often quite remarkable in building projects that once the base is complete the rest of the constructions seems to take very little time to put together. The main reason for this is because the structure that supports the building has already been decided. With the base in place the frames and doors have a clear and logical place to go.
All the frames come pre-glazed, so all you really need to do is fix the first one into position and then slide and click the others to the previous frame and sill. You'll need an extra pair of hands but really your main task is alignment and assembly.
The frames and doors have all been manufactured in the same place and are designed to be assembled without fuss.
Having the frames fully glazed saves masses of time and removes much of the problems associated with DIY projects. A few things to mention here on a technical note:
● The panels come fully glazed
● Panels are connected to to other panels and the sill via a quarter turn button
● The sills are already cut to size
● There are support blocks to locate panels to each other and onto the sill
● There is no drilling and there are no screws
4 – The Conservatory Roof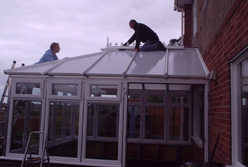 Stage 4: Fitting the conservatory roof
Putting the roof on it one part that often concerned people. The main reason is because you're up there – off the ground.
But just like the frames, there is a clear and simple process that you follow. All the parts are clearly laid out for you and the instructions are as simple as they need to be.
There are two types of conservatory roof, Glass & Polycarbonate. They have different benefits and styles that you can choose for each. The roof construction itself is what we traditionally use to distinguish between the different conservatories. So depending on the style of conservatory that you opt for, the instructions for the roof assembly will be pre-defined.
5 – The Final Stage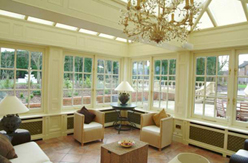 Stage 5: The Finishing Touches
With most DIY projects the finishing is the hardest part. Not due to difficulty, but due to mindset. When you stand back and look at the entire construction that you've just assembled, it can become easy to admire all the work that went into the conservatory.
But finishing involves moving from the construction toward the perfection. The finished job will take into consideration all the detail and the hard parts are already thought through for you.
Gaining Access
An additional benefit of the steel base and modular wall system is access. They enable you to gain access to the sub floor and also to between the walls. This is useful for cabling when preparing your fixtures, fittings and heating. It is also easy to provide special access, should it be required, to manhole covers and drains.
Once your cables, fixtures and fittings have been completed you are ready to lay your chosen flooring and panel off the inside of the conservatory. There is hardly anything else to consider.
For additional information on anything contained on this page or elsewhere on the site please contact us directly either by calling, completing the contact form or by filling in a quote request.
Make Building Your Dream Conservatory as Simple As You Desire