Types Of Conservatory Roofs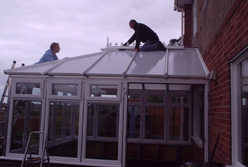 Glass and Polycarbonate Roofs
Its funny but when people think of DIY conservatories they invariably think of conservatory roofs because it's usually the shape and design of the roof that gives a conservatory its character.
Whether you choose a Victorian, an Edwardian, a Lantern design or one of dozens of other variations its probably the roof that you will have in your minds eye when you first begin to think of your ideal design.
The two materials available are polycarbonate and glass. These both come in a wide variety of choices. These are listed below with details of their performance.
Polycarbonate roofing
Polycarbonate is a lower cost option which has been successfully sold for many years and could be the ideal product for you.
It is available in five different options:
Clear – Opal – Bronze – Bronze/Opal – Heatguard
It is normally 25mm or 35mm thick and your choice of polycarbonate will depend on your own individual situation.
The one downside to polycarbonate is that it is noisy when there is heavy rain. Since the thickness has been increased the noise has been reduced but polycarbonate will always be noisier than glass.
Celsius Glass Roofing
Choosing Celsius Glass for your conservatory roof provides you with a 100% reduction in noise when directly compared to either 25mm or 35mm polycarbonate glazing products.
Celsius Glass products are supplied with a 10 year guarantee as standard.
Celsius Glass provides up to 74% Solar Reflection, providing you with an all year round conservatory, keeping you cooler in the Summer and Warmer in the Winter.
Summing up:
The material that you choose will depend upon many things: What you are going to use the room for, whether it is south facing, what your budget is, to name but a few.
By contacting one of our advisors we will be able to help you make the right choice.
You can either call us on 01635 551 687, send a fax to 01635 551 687 or send an email. To send an email please go to the contacts page.