Lean To Conservatories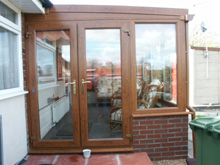 The Lean-to is a very popular design as it will give you a lovely modern style conservatory with maximum usable space at the lowest possible price. See our Lean To Conservatory Prices.
The only difference between this and an Edwardian is the roof. The Lean-to slopes from the front of the conservatory straight up to the house.
The Lean-to is ideal as a Dining room, Playroom, Office, Gymnasium, Chill Out Room, Hobby Room, Dance Studio, Kitchen or for any other use that you may want additional space in your home.
The Lean-to can be any width and can project into your garden for up to about 4 metres (12 feet). This design can go around corners, into corners, be L shaped and is very versatile.
For an alternative to a Lean-to at very little additional cost it is worth considering a Gull Wing on the next page.
Look here for our modular Lean To Conservatory Prices

The basis of this building is that it has a pent roof which slopes away from the house to the front of the conservatory. The slope, or pitch, can vary from 2.5 degrees to 45 degrees or even more, depending on the appearance that you want and what your property will allow.
The Lean to will be either square or rectangular and the guttering will run across the front of the conservatory.
| | | | |
| --- | --- | --- | --- |
| Conservatory Type | Width (mm) | Depth (mm) | Prices From |
| Lean To / Traditional | 2450 | 2500 | £1953 Including VAT |
| Lean To / Traditional | 2950 | 3000 | £2442 Including VAT |
| Lean To / Traditional | 3950 | 3000 | £2705 Including VAT |
All prices listed above include VAT
Please note : the conservatory prices shown above represent modular sizes of lean to conservatories that we offer, but here at Dream Conservatories Online, we can provide any size, style or shape of conservatory that you require and all our prices are very competitive and the quality of our conservatories and steel bases is second to none. And all this backed up by our care and attention and support to ensure that you get the conservatory installed that you dream of.
A few things to mention about the above conservatory prices:
1. The prices represent our modular sizes
2. The conservatories are available in white or rosewood
3. Although the sizes listed are modular you can have a conservatory of any size that you require, to fit the space that you have available
4. The prices listed include 2 opening windows, apart from the smallest modular. Some companies will list all their prices with just the one opening window but we would never advise you to install a larger conservatory with just the one window – it really isn't practical
5. There are many other options that you can choose from when it comes to your conservatory. Don't feel limited, please call us direct to talk through any requirement and ensure that you get off to a winning start.
Lean To Conservatories
The table shows the prices of our modular Lean To conservatories. The cheapest of these start from just £1925 inclusive of all VAT. Excluding VAT that's just less than £1605 . Dream Conservatories Online are primarily a conservatory retail company, selling direct to the public at competitive prices. That is why we quote our prices based on what the majority of people pay, we don't like to confuse people with prices that exclude VAT only to then disappoint when we add a few hundred pounds onto the final price, because we left off the VAT. Most people pay the VAT so we show our prices with VAT added.
If you are a trade or your company is VAT registered, then you can claim the VAT.
You can have any Dream Conservatory with or without a steel base and modular wall system. If you read through our bases section you can become familiar with the advantages and benefits of a steel base and compare to a more traditional concrete footing.
Lean to conservatories are the more traditional style of conservatory, the oldest style and the most popular that you will find throughout the homes in the UK. They represent the style used for the sunroom or glasshouse that was attached to the main dwelling, where plants flourished. Today though, they are a lot more sophisticated and put to a wider range of uses, including offices, children's playrooms, living rooms and kitchens.
The conservatory is no longer viewed as a bolt on to your main dwelling area but more of an extension to the space that you have. Once you enjoy the benefit that a conservatory can bring, you'll find it hard to imagine life without one.