Lean to / Traditional Conservatory Prices*
The Lean-to or commonly known Traditional Conservatory prices are below. For all sizes and additional options not shown below please call us on 0845 056 0280, fill out the Contact Us form or enter your details on our Quote Form. We will be happy to help you make your selection.
---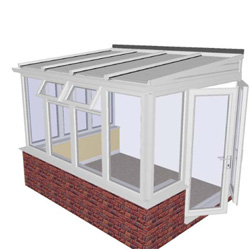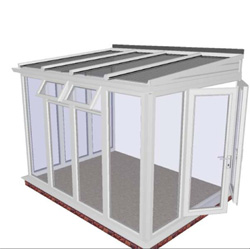 ---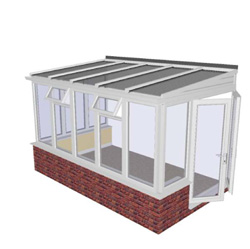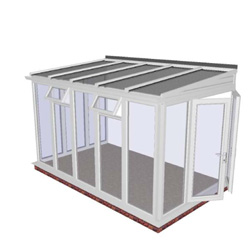 ---
DIY Conservatory Options
Available Colours: White / Rosewood
Doors can be placed anywhere
Size: Any size available on request
Openers: Price includes 2 openers but you can add more
Other options: Call 01635 551 687 for info on all options
* Prices subject to change
Click here for Edwardian Prices
Click here for Victorian Prices
The traditional conservatory that rests flat against the rear wall of your house and leans toward the garden remains the most popular type of conservatory is use today. People choose the lean to for a variety of reasons not just because of its very competitive price but most importantly because of its versatility. It is easier in many respects to fit a lean to style of conservatory into a very limited space, because our houses tend to have straight lines and flat walls making terraced and smaller semi-detached houses ideal candidates due to their limited space..
The traditional lean to conservatory also forms the base of many other styles including the L shaped conservatory that wraps around a semi-detached house. Again owing to its straight lines and simplicity it lends itself very well to a multitude of environments and uses.
When space is extremely limited, especially on side access to a semi, where you often have a very narrow space between you and the neighbough, and that space is also a sun trap, then nothing can beat squeezing a lean to into the space area! Our goal here at Dream Conservatories Online is to provide you with the best style and size of conservatory that makes sense for you and your home.
We often find smaller lean to's being used at the side of properties as a utility room. When you don't have the option of building a large new Orangery or moving your kitchen into a larger conservatory then the lean to conservatory as a utility room is a perfect option. This can enable you to move out your washing machine and dryer, as well as other items, into the utility room. You can use the room to dry your cloths, making more space in your kitchen for storage units or enabling you to remove one entire side of your storage for a larger dining room table. And with the extra space and light that you'll enjoy from your conservatory, along with a small table, chair and a few plants, you will probably make this the most used area of your home for many years to come.
Most of our customers are installing a DIY conservatory for the first time, some have already done it before, but we have done it thousands of times over many years. So it is often best to talk everything through with us first and we will be able to help you decide on what will work best your your intended use and space available.
Dream Conservatories Online LTD is the only UK specialist DIY conservatory internet company approved by the trading standards service in their Buy With Confidence Scheme.
DREAM CONSERVATORIES ONLINE LTD ARE A UK SPECIALIST DIY CONSERVATORY INTERNET COMPANY APPROVED BY THE TRADING STANDARDS SERVICE IN THEIR BUY WITH CONFIDENCE SCHEME