Conservatory Glazing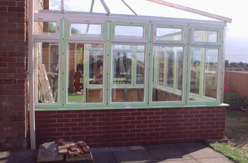 All our DIY conservatories are available in White, Rosewood on White, Rosewood and Light Oak. To simplify the whole process we ensure that detailed instructions and plans are supplied with the conservatory. There is also a Video to show you just how easy the whole process is.
All frames that are provided for your conservatory are pre-glazed in the factory. This means that you don't have to stress over glazing or de-glazing. The toughened safety glass conforms to BS 6206A and the sealed units conform to BS EN 1279. Standards are good and they ensure that each assembly meets a high specified standard. That is why we point out our Trading Standards Approval – it means the same thing.
You can still apply decorative designs to the glass and we have a range of these as well as offering you a choice of panel styles.


When you order a DIY conservatory you need to be sure that no cost is spared and you also get the quality that you want. Our 25mm polycarbonate comes in Opal, Bronze, Clear or Bronze Opal or Heatguard and there is a 35mm option. We also supply amazing glass roof options including Celcius Glass which blocks out 72% of the suns heat.
We can supply all the fixings including the lead flashing.
For complete support the roofing is manufacturered from structural Aluminium to BS 8118 and BS EN 755-2 and is supplied with PVCu cappings.
You could ask for more, it is your right to ask for more and being Trading Standards Approved means that we give give you that extra peace of mind you might prefer – at no extra cost.
DIY Conservatory Glazing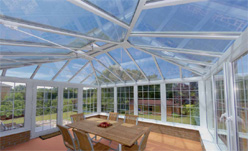 For you to be able to make the most of your conservatory it is vital that you have the most effective glazing particularly in the roof.
Your needs and requirements may well be different from someone elses. To help you work your way through the maze of options call us now on 01635 551 687 and we will help you make the right decisions.
The two materials available are polycarbonate and glass. These both come in a wide variety of choices. These are listed below with details of their performance.
28mm Toughened Clear Sealed Units
These are not suitable for the roof of your conservatory, unless it is situated in a shady position. They can be used in the windows and doors providing that the conservatory is separate from your home accommodation i.e. there is an external rated door between your conservatory and your home. If you can walk directly into your conservatory from your home without having to open a door this glass contravenes the regulations in force in July 2005. We constantly update these notes but it is always worth checking with an advisor in case anything has changed. Regulations may vary in some parts of the UK. U-Value 2.8
28mm Toughened Clear Low E Sealed Units
Low E stands for low emissivity. These units have a coating on them which reduces the amount of heat allowed to pass through the glass in the summer whilst keeping in heat during the winter. These are good for windows and doors but we do not recommend it for roofs unless in a shady position.
28mm Toughened Celsius High Performance Glass Sealed Units
Dream Conservatories Online Ltd is committed to offering our customers the latest and best in technology. As with most products on the market technology changes and glass sealed units are no different. Celsius units are ideal for the roof but can be used for the whole conservatory.
A normal double glazed unit will allow 75% of the suns heat to enter your conservatory. This figure can be reduced to 26% with Celsius.
A normal double glazed unit may mean that there is a tremendous glare factor on a bright day. Celsius units can reduce glare by 44%
Celsius units can retain 50% more of your winter heating compared to a normal double glazed unit.
Celsius units come with a 10 year manufacturers guarantee.
DREAM CONSERVATORIES ONLINE LTD IS THE ONLY UK SPECIALIST DIY CONSERVATORY INTERNET COMPANY APPROVED BY THE TRADING STANDARDS SERVICE IN THEIR BUY WITH CONFIDENCE SCHEME