Victorian Conservatories
The Victorian conservatory is the classic design enjoyed by many discerning customers. Chosen for its attractive shape and roof the design has an elegance that can only enhance your properties appearance and quality of life.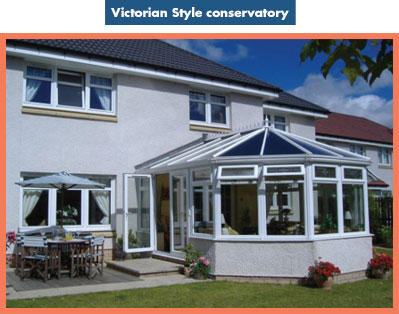 A Victorian is ideal for a small or large garden. The bell shaped front can give you valuable space in a small garden where it is important not to overpower the garden, while in the larger garden there is no limit to how elaborate you may want to be.
Some of our modular Victorian Conservatory Prices Victorian Style conservatory
Victorian conservatories with a double hipped roof are suitable for bungalows or any single storey building.
The Corner design is also a tremendous design when you want to add a room into a corner to gain the maximum space while adding tremendous character and style.
When choosing a Victorian, as with all conservatories, it is always worth carefully considering where the doors are going to be. To do this, consider what you will be using the conservatory for and where any furniture will be situated. If, for example, your conservatory is going to be a dining room, it might be unwise to have the doors in the front where they may be difficult to get to. On the side, close to the house may be a better option.
The Victorian conservatory will add an atmospheric setting for a dining room or somewhere to relax and unwind while making the most of your garden throughout the seasons.
To help you decide, when you know the approximate internal size that you want your conservatory to be, compare this with a room in your home. Then imagine cutting two corners off. Imagine your furniture in there. Will you have the room that you really need?
Other Names for The Victorian Conservatory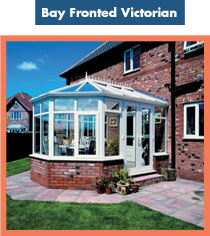 A Victorian conservatory is sometimes known as a, bell ended, faceted, or bay fronted conservatory. It will normally have either three or five sections, or facets to the front of the conservatory, and two straight returns that go back to the house walls.
Victorian style conservatories are very attractive and elegant. They have soft lines to the exterior as there are no sharp corners or angles, which allows easier access to areas of the back garden when space is limited.
Something to consider though is the amount of usable floor space that you lose by having a bell end i.e. cutting the corners off. Many people decide to have an Edwardian design when they really think about it.
Make Building Your Dream Conservatory as Simple As You Desire