P-Shaped Conservatories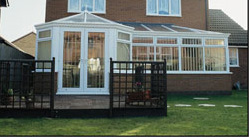 The 'P' shaped conservatory is a marriage between the Victorian and the Garden Room and is regarded as the most versatile and aesthetically pleasing of all the designs.
Using the 'P' shape format it is possible to design an individual conservatory that is totally unique to the property it has been designed for, and by including things like lantern roofs and multiple bay fronted sections there's no limit to the design possibilities

Edwardian Styled P shaped Conservatory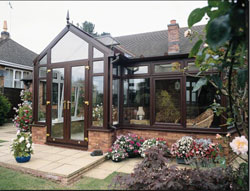 Here we have the P shaped Conservatory in an Edwardian Style. There is no limitation to the style for a P shaped but the Victorian and Edwardian are understandably the most popular and common.
It is not always easy to look at your environment to determine the best arrangement for you. If that describes your situation then your best bet is to contact our expert staff and we will help you to come up with the most visually appealing options within your budget. We really are here to help. Call 01635 551 687 and we will answer your questions.
Call 01635 551 687 for any conservatory questions that you may have and we show you the best options available.