DIY Conservatory Guide: What You Need To Know About DIY Conservatories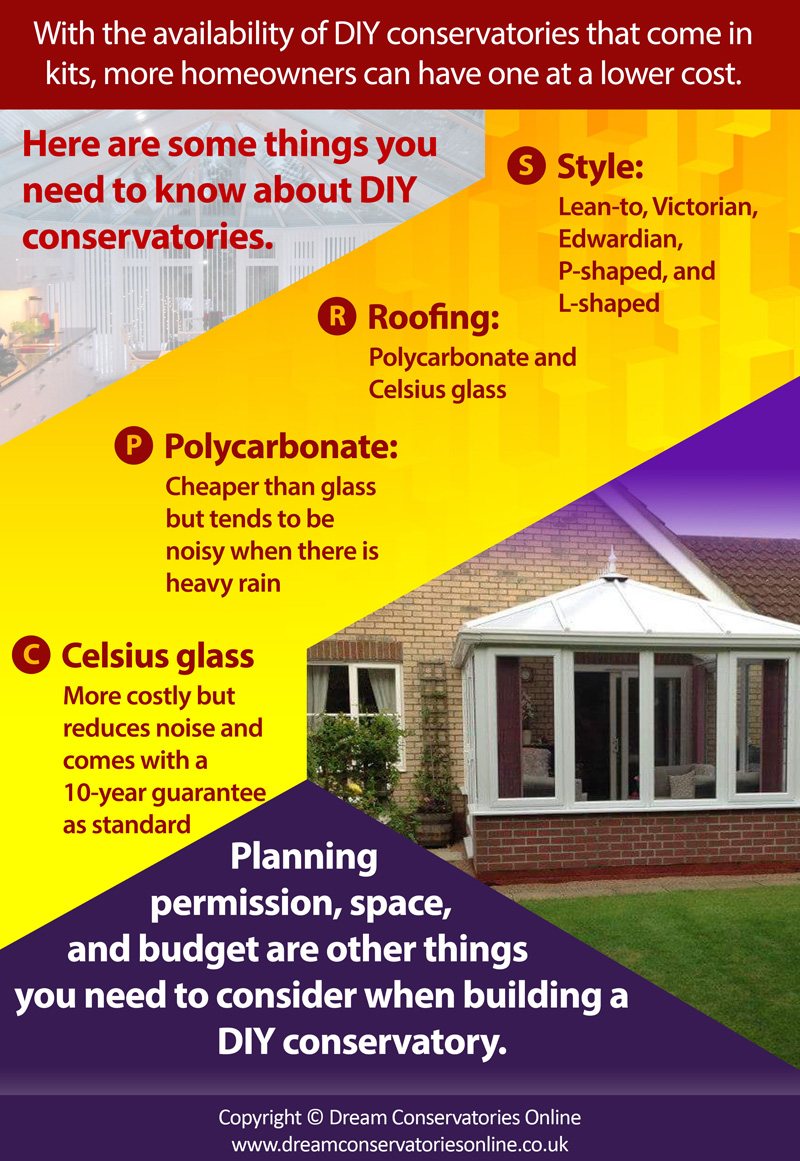 Used as a sun lounge or a place to grow delicate plants, a conservatory has become a popular home improvement project among homeowners because of their several benefits. Besides allowing for more space for your growing family, it raises the value of your home. Building one can be costly, but with the availability of DIY conservatories that come in kits, more homeowners can have one at a lower cost. Here are some things you need to know about DIY conservatories.
Style
You can choose from a range of styles, the most common of which are:
Lean-to: The most basic and cheapest style there is, its pitched roof slopes away from the wall of your home. It is typically found on the side of properties, where it functions as a utility room or a sun trap.
Victorian: Bay-fronted and usually comes with a three or five faceted roof, the Victorian style is stylish and curvy, making it blend well with the look of most homes.
Edwardian: Square or rectangular in shape, this style maximizes floor space since there are no curves occupying the corners.
P-shaped: It is a combination of the same style or different styles, creating a grand new style.
L-shaped: Usually found wrapped around corners, this style is excellent for maximizing the use of space where a gable extension juts out from the main body of a house.
Roofing
With regard to the roof of your conservatory, there are generally two options:
Polycarbonate: Made from thin sheets of plastic, it is the more affordable option. Its drawback, however, is that it is noisy when there is heavy rain.
Celsius Glass: It is more expensive than polycarbonate, but it reduces the noise brought about by a heavy rain. Celsius glass products also come with a 10-year guarantee.
Other things you need to take into consideration when choosing a DIY conservatory planning permission, the space of of your property, and your budget.
In conclusion, a DIY conservatory is an excellent addition to your home. It can have multiple functions and makes your home more valuable. There are a few things you need to know about it before having one, though, and that includes the style and roofing. The styles available are lean-to, Victorian, Edwardian, P-shaped, and L-shaped. In terms of roofing, polycarbonate and Celsius glass are available. Moreover, visit a reliable DIY conservatory company and seek for advice if you are not very sure about what you need and to see what your options are.