Self Build Conservatory & Steel Base Conservatories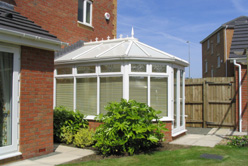 Building a DIY Conservatory is a structured project that involves a few clearly laid out simple steps. At first it may appear like a daunting task, but with the right tools, expert advice and support every step of the way you can build your own DIY Conservatory with confidence.
Dream Conservatories Online have created a system that simplifies the whole process. Our system ensures that you get the complete support every step along the way, should you need it. And because we are dedicated to complete support we have ensured that all our highly skilled DIY conservatory staff are able to answer your queries both before and after your purchase.
To help with your smooth and stress free installation we supply you with an installation DVD along with a detailed illustrated installation manual so that you will have everything that you need.
We have divided the DIY conservatory project into the following 5 major stages:
---
Stage 1 : Conservatory Planning
stage 2 : Establishing a solid foundation – Conservatory Steel Bases
Stage 3 : Fixing the windows and doors to your base – Conservatory Frames
Stage 4 : Putting the roof on – The Conservatory Roof
Stage 5 : Finishing the inside with Conservatory Panels
---

Stage 1 – Planning Your Project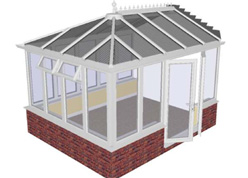 Stage 1 : DIY Conservatory Planning
The rules and regulations for planning of DIY conservatories has not really changed that much over the years. We have created some easy to understand simple guidelines for you to determine whether you are within the correct limits. We have also included useful links should you need to contact the planning authorities.
Most conservatories are well within regulations and do not require planning permission. Read our guidelines on conservatory planning permission for more information. We have also provided some useful links in case you need more help.
2 : Your Conservatory Base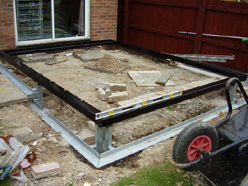 Stage 2: Establishing a solid foundation – your Conservatory Base
The two main options that you have for a conservatory base are to build one from scratch or do you buy a solid steel base for your conservatory. Building a traditional conservatory base is not the task of a DIY enthusiast. We would recommend that you get a skilled builder to dig the footings, lay the foundations, wait for the concrete to set and then build a dwarf wall for your conservatory, should you require it. This is a very skilled task and the type of thing that you do not want to get wrong.
The other method is to buy a DIY conservatory base. The base that we recommend which has been established for over 20 years is the Durabase DIY conservatory base and modular wall system. This steel base was created to provide a solid foundation for all types of conservatories and has a number of advantages over building a traditional base. In fact we can not find a real valid reason not to buy a steel base conservatory. Find out more about our Steel base conservatories right here on our site.
3 : Sliding in The Panels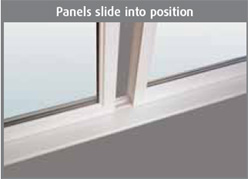 Stage 3: Fixing the windows and doors to your base
Once you have built your base, your next task is to fix the franes into place.
All our frames come fully glazed before they are delivered to you. This saves an incredible amount of time and hassle. The way that the panels are attached to the sill and to each other is via a simple quarter turn button. The sills are pre-routed and cut to size. Support blocks locate the Panel onto the sill and panels slide into place. No screws and no drilling. Find out more about our glazing system and why we get excited about the quality of our DIY conservatories.
4 – Putting the Roof On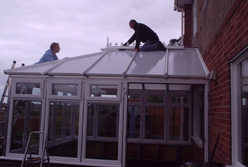 Stage 4: DIY Conservatory Roof
It is the style of roof that determines the shape of the whole conservatory. Whether you have a Victorian conservatory, an Edwardian conservatory, a lean to conservatory a p-shaped conservatory or something different, the roof will determine what the end product largely looks like. And because being on the roof may be the most challenging part of the job you really want it to be as simple as the steel base and slide and click panels. And you will be pleased to know that installing the roof is just as simple and stress free as installing the rest of the conservatory.
We have a complete section on the roof, including the type of glazing material, polycarbonate or glass. We also have a DVD that you can watch that shows you step by step what needs to be done and you can see for yourself just how easy the whole process really is.
5 – Finishing the inside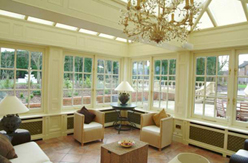 Stage 5: Finishing with Panels
These conservatory internal panels are an ideal way to complete your conservatory to a very high standard. The range of internal panels are custom made to suit each individual conservatory and are simple and quick to install.
They can save you time too without the need for plastering the inside and look amazing when painted.
To find out more click on the conservatory internal panels