DIY Conservatory Building Kits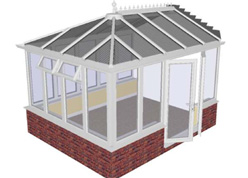 Conservatory kits are essentially DIY conservatories. They enabled you to build the conservatory in very much the same way as you would build any form of D IY product. The whole idea of the building kit form of the conservatory is that it gives you the confidence that you would expect from any form of kit product.
If you're a handy person and used to building your own projects at home, weather in the form of bedroom wardrobes, kitchen cabinets, self assembly beds, or even a model aircraft, then you will be familiar with the whole concept of kit construction. The conservatory kit is no different. It enables you to build each section of your conservatory with the confidence that the end product has already been conceived of by experts.
Additionally, DIY conservatory kits have been used by thousands of people over the years, and that has enabled the entire process of conservatory construction to be improved and simplified.
Steel Base DIY Conservatory Kit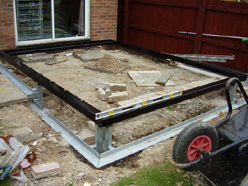 The conservatory base, especially when choosing a steel base for your conservatory, is the first component in the entire D IY conservatory building product. If you choose a steel base for your conservatory it means that you don't have to worry about digging foundations. Nor do you have to worry about filling those foundations with large amounts of concrete and then having a bricklayer build a wall for the conservatory to rest on.
The conservatory steel base can be easily assembled in just a few days and will be designed to fit snugly with the rest of your conservatory. Steal bases are as complete a product as having a traditional foundation built and should always be considered as a quality alternative with a lot less mess and hassle. In addition, you don't have to wait weeks for the base to settle before build on top, and should you choose the autumn or winter to build your conservatory, you won't have to worry about the frost.
Our steel base kits can also include a dwarf wall. So if you choose to build a wall on to your conservatory foundation, the entire wall construction is supplied in kit form too. The conservatory steel base and the dwarf wall are both supplied as one complete kit. The advantage of the two being provided together is that you're assured that they are a perfect match. And when it comes to the facing bricks, (the brick faces that are on the outside of your dwarf wall) there are literally hundreds of options to choose from, ensuring that there is a perfect match between your dwarf wall and the walls of your home.

Glazing Panels in DIY Kit Form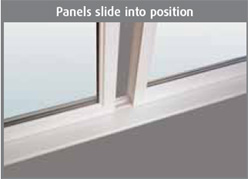 The glazing panels come as a complete sealed unit. The double glazed glass is already inserted into the glazing panels. So when building a conservatory from the kit there is no need to individually glaze the panels. Our conservatory panels slot together as simple as a jigsaw puzzle. Click here to see how our panels slot in place and join together. Within just a few days you can see how your base panels can be easily assembled.
All Assembly Components Supplied in Kit Form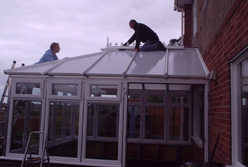 Each and every component assembly that you choose for your DIY Conservatory, including the doors, and the roof that rests on top, will all come in an easy to assemble building kit. Every assembly unit will have detailed instructions as to how it should be put together correctly and how it fits with the rest of the construction.
Our experience has taught us that many customers will have questions. Most will have questions before they even begin the project. That is why we pride ourselves on having a comprehensive pre sales service. Any question you may have about your conservatory kit, the right type of conservatory for your home, the ease of construction and how long it may take, can be handled before you even make your purchase. This will give you the confidence that you have a team that you can trust behind you, every step of the way.
If They Can, You Can Do It Too!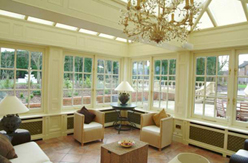 Our conservative building kits are ideally positioned for people who have never built a conservatory before. The whole idea of the kit is for the novice. If you read our testimonials if you will find that there are many people that have built a conservative for the very first time. Some are young and others not so young. Our most senior DIY'er was just 77 years young.
It is never too late to start. Give us a call and we will answer all your questions. For more information and advice read through our testimonials. For a quote on the cost of a DIY conservatory Kit fill out the quote form and we will give you a very competitive quote.